The department Emissions focuses on pollutant emissions and energy consumption from motor vehicles. Activities include measurements on chassis dynamometers and engine test beds as well as testing with on-board measurement systems as well as developing and applying models that simulate fuel consumption and emissions of motor vehicles with conventional and alternative propulsion systems. Our software ranges from development tools for industry to emission inventories for cities and countries for the purpose of environmental monitoring.
Areas of expertise
Measurement of emissions and energy consumption of vehicles
Detailed simulation of

single vehicles
engines
auxiliaries
vehicle fleets

Simulation of alternative propulsion systems (HEV, BEV, PHEV, REX)
Development of test cycles from real world driving behavior
Simulation of emissions for local, regional and global monitoring tasks
Contributions
EC HDV CO2 Regulation 2017/2400
Significant contributions in the technical parts of the legal texts, development of test procedures, and implementation of the required software for component evaluation and vehicle simulation.
Handbook Emission Factors of Road Vehicles (HBEFA)
Providing the european standard data base for real-world emissions in all relevant traffic situations for two-wheelers, passenger cars and commercial vehicles.
RDE compliance checking
Checking the "Reald Driving Emissions (RDE)" limit compliance of type approved passenger cars also under borderline driving conditions.
Our Team
Our emissions team is made up of employees in the fields of measurement technology, modeling and simulation.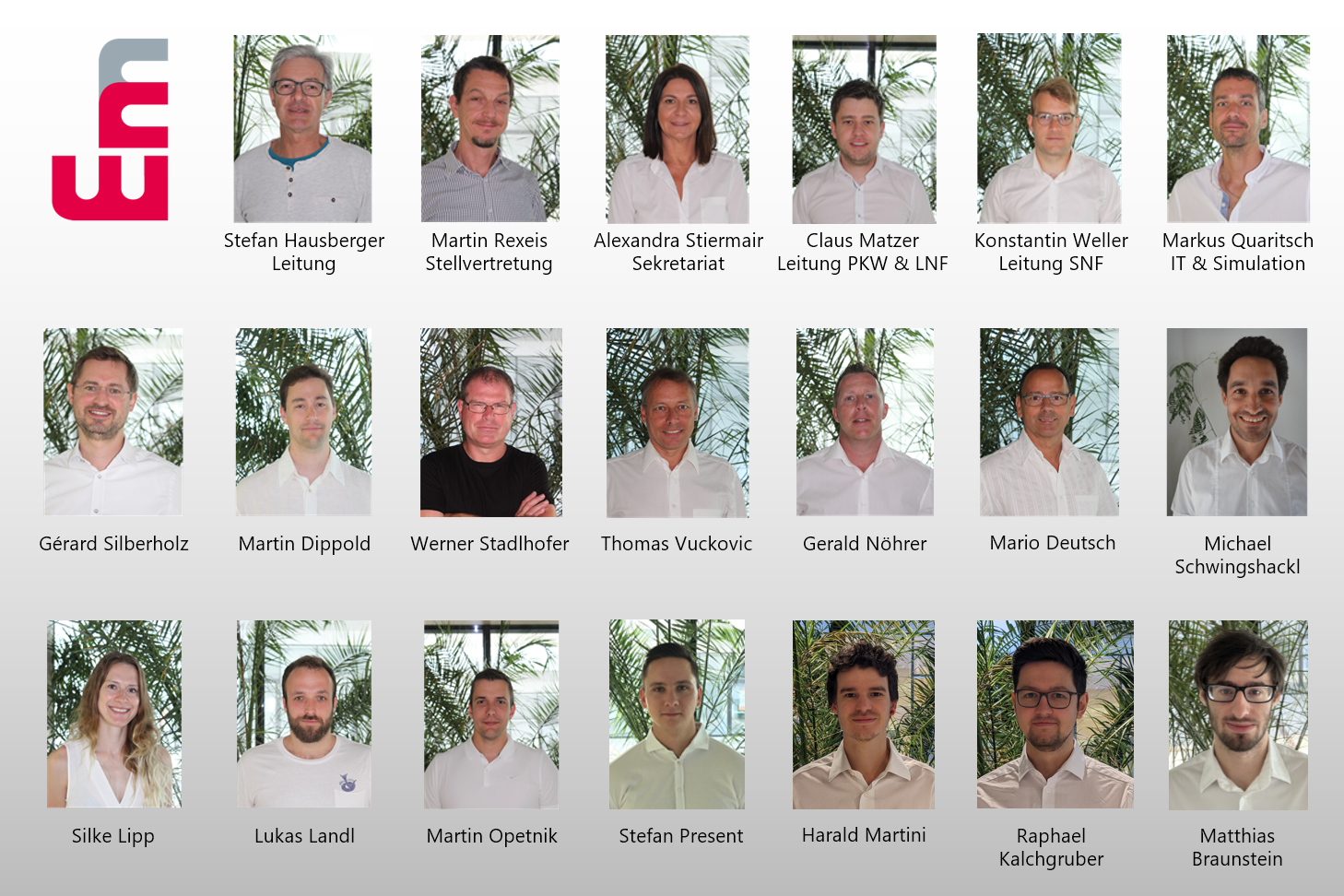 Measuring
Well-trained staff with modern measuring technology and specialized evaluation software guarantees efficient measuring even in challenging tasks.
On-board Measurements
Measurements according to the RDE/ISC boundary conditions and as basis for emission models
Passenger cars and heavy duty vehicles
Off-Road, e.g., construction machinery and agricultural vehicles
Motorcycles
Measurements in the Laboratory
Passenger car chassis dynamometer
Heavy duty vehicle chassis dynamometer
Motorcycle chassis dynamometer
Services
Fuel and energy consumption measurement
Analyses of regulated pollutants
FTIR for non-regulated exhaust gas components
Particle number and mass emissions
Time-resolved and total values
Simulation
We develop software tools for the simulation of fuel consumption and energy consumption as well as exhaust gas emissions from motor vehicles. Our tools and models are used throughout Europe. A close relationship between developers and users leads to practical and easy to handle simulation tools.
Consulting
You need support in planning and realization of your measuring task? You need support in simulating vehicle emissions? We are happy to assist you. Our staff has profound knowledge and many years of expertise in the field of measuring and simulating vehicle emissions. This guarantees sound and practical advice on all questions concerning measurement tasks, data analysis, and certification of exhaust emissions and CO2 emissions.
Measuring Tasks
Design of measuring campaigns and test procedures
Coordination and implementation
Data analysis and interpretation
Emission Simulation
Analysis of the status quo
Effects of measures for environmental monitoring
Optimization of drive train and energy flows on vehicles
Emissions per vehicle up to inventories for countries
Consulting
We consult you on questions regarding the certification of pollutant and CO2 emissions.
One of our thematic focuses is the methods and legal obligations regarding CO2 emissions and fuel consumption of heavy-duty vehicles in the EU (Regulation (EU) 2017/2400 for motor vehicles, Regulation (EU) 2022/1362 for trailers and the VECTO tool family). We offer specialised consulting services on these topics (VECTO Consulting).
References